If you read about my recent haul, you know that I bought three products from Lush, and that these three are the first ones I've ever tried!
To be honest, I'm not a huge fan of natural products. I've tried Burt's Bees hair care and skincare products (I love their lip balms!), as well as others I can't think of now, and I've always been disappointed unfortunately. Plus I'm such a sucker for good smelling products, and to me, even though it's way healthier and natural, I didn't like anything I smelled in Lush before.
But this time I went in with a slightly more open mind and with the help of an salesgirl, I picked out a few things to try out.
From the website it's described as a "shampoo for dry or fluffy hair that needs to be tamed."
"Beer shampoo, really? For volume, softness and shine we proudly serve our tremendously effective pub-inspired shampoo. Cynthia Sylvia Stout is made with organic vegan stout beer from a local brewery, which contains protein to give your hair weight, smoothness and gloss. It's excellent for hair that tends to go frizzy in damp or humid environments. Cynthia smells delicious, just like a brandy, stout and lemon cocktail and even makes curly hair unbelievably shiny and bouncy once again. Give your thirsty hair a drink of this."
Features
Stout to calm: For all hair types but especially beneficial for fluffy, hard-to-manage hair.
Friend to all scalps: Yeast improves the health of the hair and scalp.
For a polished finish: Organic lemon juice is a gentle cleanser that adds masses of shine and gloss.

All of those things sound great, right? I have poofy, slightly frizzy hair that could always use extra shine and taming, so when I read the reviews online and the description, I got really excited to try it! Most of the reviews online talked about this as miracle product that changed their hair, but many also complained about the smell. I don't honestly know how to describe the smell, besides maybe men's cologne mixed with a little lemon. I wouldn't say that it's a bad scent, but I also wouldn't wear it as a perfume on purpose either. But the scent is pretty strong in the shower.

Aside from the smell, I must say that I was really impressed with my first use of this shampoo. It lathered pretty well for a natural shampoo (actually better than a lot of shampoos in general), and when I rinsed, it left my hair so glossy and smooth! Guys, this was before my conditioner! You know that I'm obsessed with Suave's Moroccan Infusion Shampoo, but it doesn't rinse as well as this! Seriously, I could already tell a difference in terms of how shinny my hair was! So far I'm impressed with this!

American Cream Conditioner



I had heard about this conditioner before from a few of my favorite Youtubers, so I was excited when the salesgirl recommended it. She said that a lot of people feel this conditioner and don't think it's heavy enough, so they use more. She said that I don't need to, that I should just use the normal amount and I'd be fine.

From Lush.com it says:

"American Cream is our dreamy, medium-strength conditioner for soft, shiny, fragrant locks. Softening honey, scalp clarifying lavender and fresh oranges make a conditioner suitable for all hair types to soften rough ends and keep hair calm. Not to mention the absolutely delectable strawberry vanilla cream scent. Mark was inspired by a vision of 1950s US milk bars, where teenagers would meet and drink frothy, creamy milkshakes. He concocted our best-selling conditioner to soften and control, and evoke memories of poodle skirts and jukeboxes. No wonder it remains such a customer favorite year after year!"

Features
Smells like teen spirit: Suitable for all hair types, just about anyone can enjoy soft hair scented with gorgeous strawberries and vanilla.
Double your pleasure: Our medium-strength conditioner leaves your hair calmed, softer and transformed.
Fresh is best: Strawberries are rich in vitamin C and have cleansing properties.

I also was really intrigued with the scent, because it's supposed to be strawberry vanilla (like a milkshake I guess). I'd say that it smells pretty good, sort of like my Moroccan Infusion Conditioner actually. It doesn't though smell truly like strawberries and vanilla. It has that natural product smell with it. And if you don't like that smell, I don't think this would be for you, because it lingers in your hair like none other. Seriously, I'm excited if my wet hair still has the scent. This lingered for two days, no joke. I think it did a pretty good job overall of making my hair soft and manageable. I still had hair that needed detangling getting out of the shower, but I've never found anything that made me not have to do that.

So as far as the hair products go, I was impressed! My hair really cooperated well and I'm excited to keep using this stuff! Both were definitely great recommendations for my hair type! I would say that they left my hair a little bit more coated than other shampoos and conditioners and they left it a smidgen more oily (but in the grand scheme of things not that bad. I only had to use dry shampoo on my bangs for day 2).

Catastrophe Cosmetic Fresh Face Mask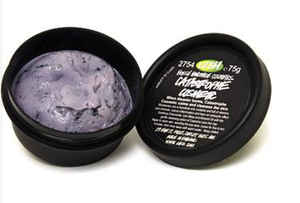 Recently I have gotten more into skincare, so I wanted to try out a face mask. I told the salesgirl that I have oily skin, and since I wasn't particularly break-out prone, she highlighted this mask for me.

According to the Lush website:

Blueberry infused maintenance mask



"Still learning about proper skin care? No need to be embarrassed. After all, every face has different needs! We recommend starting here. Prevent disasters by taking regular care with our deep cleaning blueberry mask, Catastrophe Cosmetic. The little blue bulbs are packed with vitamins, with a gentle calamine base to cleanse the skin without stripping it of its natural oils. Use this one weekly as a deep cleansing treatment to kick off your regular skin care routine."
Features
Gentle enough for everyone: Catastrophe is one of our best-selling masks because it's gentle on all skin types.
Local matters: We buy our blueberries for Catastrophe Cosmetic from a local farmer here in British Columbia.
Calm catastrophes: We use calamine powder for its calming and soothing effect.

Overall, I was a little shocked when I found this needed to be refrigerated. But I got over that pretty quick. Because in my opinion, of the three products I purchased, this one smells the best. It literally just smells like clean blueberries. I love the smell so much.

So before my shower, I layered this all over my face and waited about five minutes before rinsing it off. One thing I noticed about this mask is that it really set in to my skin (kind of what I assume a mud mask would feel like). I also noticed that after my shower, that I still could A.) smell the mask perfectly B.) that it left sort of a film all over my face. I wouldn't say that it made my face more oily afterward, but it definitely didn't mattify my skin like the salesgirl said it would. I honestly sort of felt like using my Simple Toner on my skin just to get the film-y feeling off. But my skin felt really soft and smooth and it smelled nice, so I'm willing to try it again as a once a week type thing.

There you go! In the future I'll follow up on these products and let you know if my opinions change at all. Also, please let me know if you have any favorites from Lush that I should check out!