So if you've read my daily makeup post, I promised a couple of reviews on BB Cream and a couple of mascaras. After using and comparing them, I can finally tell you my thoughts.
First up, BB Creams!
The two BB creams that I tried out were:
-Smashbox Camera Ready BB Cream ($39 at Sephora
-Garnier Skin Renew Miracle Skin Protector ($11.99 at Target)
So I'm pretty late on the whole BB cream scene. And I also know that people all say that the western BB creams have absolutely nothing on the Asian ones. But I'm not a huge fan of ordering things online, especially when it involves trying to match it to my face.
Anyway, the idea of a BB cream is perfect for me. I don't want to cake on foundation and I definitely just want a natural look. Plus, I love the fact that BB creams usually contain SPF, since I don't wear sunscreen (I know...), and I love all the benefits they claim to have. Plus the hype on Youtube and other blogs was just hard to ignore. So I decided to go with the high and low of the most popular western versions (I don't count Dior's $50+ kind, because that's just ridiculous to me).
So here we go into a little breakdown...
Picture from imabeautygeek.com
The first I used was the Garnier version because it was so inexpensive and I've heard almost all positive things about it.
I liked:
-Fresh Clean Smell
-Great Coverage
-Cheap
-Blended Well
-Fantastic Staying Power
I Disliked:
-Only 2 colors available
-Dewy
-Sticky/Oily
-Heavy Feeling
So the first three or so days I absolutely loved it. It worked fantastic under my MAC Mineralize Skinfinish Natural and covered most of my redness and made my skin look great. I don't consider myself to have super oily skin, but after the first couple uses, it just became awful. I felt like I seriously took fried chicken and just rubbed it all over my face. Yes, our humidity was high (generally we live in a pretty dry climate), but when I went without, it wasn't pawing at my face. Overall, I would give it (for me) 3 stars (out of 5). The moisture was just way overboard for me.
I decided after the Garnier version, to try one that was also just as hyped up, but had even more promise to it, since it claims to "maintain moisture" on the face.
I like:
-Not Oily
-Matte finish
-SPF 35
-Coverage (honestly not as good as Garnier though)
-Lasting Power ok (Garnier was better too)
I Dislike:
-Price
-Smell (not a big deal though)
-I feel like I need more product with this than the Garnier to cover my face well
-Doesn't last more than 8 hours
This was definitely an improvement for me just because it didn't make my face so darn oily. Instantly I noticed that this is harder to blend, and that I needed a little bit more product. But overall I do like it, and I think it improves the look of my skin. I would give it probably a 4 or 4.5 stars. I know I plan to keep using it, definitely.
By the way, if anyone has used the Too Faced BB Cream, please tell me your thoughts! I just played around in Sephora with it, but I was afraid it wouldn't provide as much coverage and would be pretty oily.
PART 2
Battle of Mascara
Finding the perfect mascara ranks among the difficulty of finding the perfect wedding dress and even the perfect man. It takes a lot of frogs, to find just the right now. And while others claim that they love this mascara or that one, and then you try them out, and they are awful. It's because you won't get the same sparks from kissing their boyfriend that they do, I guess.
I Like:
-The Flashy Gold Tube
-Shape of the brush is really comfortable
-No weird smell
-Dries well and fast
-Doesn't smudge or smear
-Comes off relatively easy with my MAC makeup remover
-Classy look, no spider leg-look
-Doesn't Clump
-Lengthens
-Defines
-Good Volume
I Dislike:
-A tad expensive for drugstore
-For a more dramatic night look, several layers may be needed
Okay, so the two dislikes were definitely hard to find. I consider myself to have better than most eyelashes, so if you have short ones, you may have a slightly different opinion. There's pretty much nothing I dislike about this mascara. This is my first mascara I've tried that hasn't been Covergirl or Maybelline, mostly because I was under the false impression that no other drugstore mascaras are any good. But I was SO wrong! Heaven. That's what this is.
But like finding the perfect wedding dress or husband, sometimes you just can't help but make sure you checked out every option, even after you are pretty sure you found the one. And that was me with Maybelline's The Falsies. I saw so many gurus on Youtube using it and I loved the dramatic look of their lashes. And I bought it. (I got the non-flared, regular version)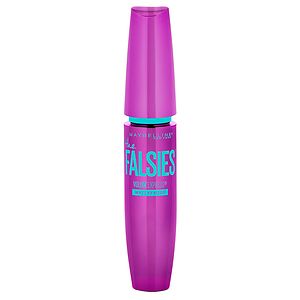 I Liked:
-The curved wand
-Went on easily
-Definitely added a ton of length
-Dramatic
I Disliked:
-Smudging and smearing (ridiculous, I felt like it never dried. Even 10 hours after applying)
-Spider look (yuck)
-Not a good everyday look
-Didn't want to come off with my remover (it just sat underneath my eye)
-Sticky
-Clumpy
-Flakes
Ugh. I was so disappointed. Honestly, it's not even in bottom three of my least favorite mascaras (No, that's left for Great Lash and Lash Blast), but it's not a favorite at all. After three days, I just couldn't take it anymore.
I went back to my L'Oreal. And I'm in love. I promise to never doubt it again (although trying out high end mascaras might be calling...). Like Randy from Say Yes to the Dress once said, "Once you find the right man, you need to just to stop looking. Same with a wedding gown."
And definitely the same for mascara.
So there you have it! Any favorites you wanna add? Have you tried these products and had similar results or completely different?
Thanks for reading!